Board of Directors

President – Kevin Ammar, MD
Kevin Ammar is a board certified, fellowship-trained neurosurgeon who specializes in complex spine and minimally invasive spinal procedures. After completion of his undergraduate studies at the University of Virginia, he pursued his medical education at the University of Florida where he was inducted into the Alpha Omega Alpha medical honor society. He then pursued his neurosurgical residency at the University of Alabama at Birmingham where he served as Chief Resident and met his wife, Kathryn. Following residency, he and Kathryn moved to Los Angeles where he completed a dual neurosurgical / orthopedic fellowship in complex spinal procedures at Cedars-Sinai Medical Center. This included training in complex spinal procedures such as spinal deformity and scoliosis, as well as the latest minimally invasive procedures.

His practice is based at the Neurological & Spine Institute's office in Savannah, Georgia. Dr. Ammar also practices at our satellite office in Statesboro, Georgia.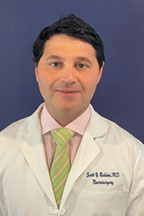 President-Elect - Scott Rahimi, MD
Dr. Scott Rahimi graduated Cum Laude from the University of Georgia with a degree in Biochemistry and went on to complete medical school and neurosurgical residency training at the Medical College of Georgia. Following his residency, he pursued a 2-year endovascular and open cerebrovascular fellowship at Emory University. He then returned to Augusta and joined the faculty at MCG. Dr. Rahimi is currently a Professor of Neurosurgery and Neurosurgical Director of the Comprehensive Stroke Center at Augusta University Medical Center. He also serves as the program director for the neuroendovascular fellowship and associate program director of the neurosurgery residency training at Medical College of Georgia. His primary areas of interest include treating patients with cerebrovascular disease and tumors of the central nervous system.

Dr. Rahimi is married to Bric Rahimi who is an OB-GYN. They have three children.
Secretary/Treasurer - David Jason McCracken, MD
Dr. McCracken is a board-certified, fellowship trained Neurosurgical Oncologist who specializes in the surgical treatment of primary and metastatic tumors affecting the brain, pituitary gland and skull-base. He is well-versed in many different surgical approaches including open and minimally invasive craniotomies, endoscopic approaches to the skull base and pituitary gland, and stereotactic radiosurgery with both Gamma Knife and Linear Accelerator based technology. He leads the Piedmont Neurosurgical Oncology Service, is Co-Director of the Piedmont Brain Tumor Center—an MD Anderson Provider Network clinic, and Medical Director of the Stereotactic Radiosurgery Program at Piedmont Atlanta Hospital.
Program Chair – P. Ryan Lingo, MD
Dr. Ryan Lingo is a neurosurgeon with expertise in brain, skull base, spine, and peripheral nerve surgery, including minimally invasive spine and cranial procedures. He is a native of Columbus, GA and earned his undergraduate degree in biology from the University of Georgia. He graduated from Mercer University School of Medicine as a part of the inaugural Savannah campus class. He then went on to complete his neurosurgical residency at the University of Tennessee Health Science Center and the Semmes Murphey Clinic in Memphis, TN, training in the latest cranial and spine techniques. Dr. Lingo maintains a general neurosurgical practice, evaluating and treating patients with brain, spine, and peripheral nerve disorders. His interests include: neuro-oncology, meningiomas, skull base tumors including pituitary tumors, trigeminal neuralgia, Chiari malformations, neurovascular conditions such as aneurysms and arteriovenous malformations, spinal tumors, degenerative neck and spine disease, carpal tunnel syndrome, and ulnar neuropathy. He is trained in minimally invasive spine and cranial techniques, neuroendoscopy, and stereotactic radiosurgery.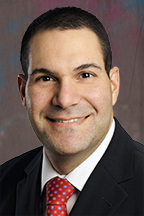 Immediate Past President - Daniel Refai, MD
Dr. Daniel Refai is a neurosurgeon in Atlanta, Georgia and is affiliated with multiple hospitals in the area, including Emory Hospital and Grady Memorial Hospital-Atlanta. He received his undergraduate degree from Tufts University and continued onto to receive his medical degree from University of Chicago Pritzker School of Medicine. Dr. Refai is an Associate Professor at Emory University Department of Neurosurgery, Associate Professor at Emory Department of Orthopaedic Surgery and Director of Spinal Oncology at Emory Spine Center.
| | | |
| --- | --- | --- |
| Director - Area One (term 2) | 2021 - 2024 | Brian Howard, M.D. |
| Director - Area One (term 2) | 2020-2023 | Matthew Gary, MD |
| Director - Area Two (term 1) | 2021-2024 | Igor DeCastro, M.D. |
| Director - Area Three (term 1) | 2020 - 2023 | Ryan Lingo, MD |
Committee of the State Neurosurgical Societies
William Boydston, MD
Hugh Smisson, MD
Joshua Wewel, MD

Area II Nominating Committee
Neil Woodall, MD